Do not handle or go near wildlife, for your safety and theirs!
The time of year is important to consider when monitoring. Note the active season for each species.
If you are unsure of how to identify a sighting, contact the host organization or review the provided resources before you submit data.
Note that certain surveys require a type of training to participate.
Rescue information is provided for certain species if found injured or distressed.
If you would like to use data from the wildlife monitoring surveys for school projects or other purposes, please reach out to the host of the survey to gain permission to use.
Diamondback Terrapin Monitoring
Active Season:
Nesting females (late May-early August). Hatchlings (July-October before cold temperatures). Overwintered hatchlings (start of warm temperatures in spring)
Habitat:
Bay beaches
Wetlands
Brackish water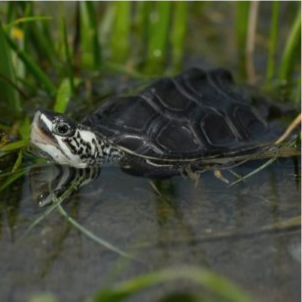 Training:
Not required, but encouraged
https://www.amseas.org/events
Active Season:
Kemp's Ridley, Leatherback and the threatened Loggerhead and Green sea turtles are observed during the summer and fall in the waters around New York. Sea turtle sightings begin when water temperatures increase in early summer (mid-June) through fall (October).
Habitat:
Atlantic Ocean and bays and estuaries around Long Island
Survey Contact:
– AMSEAS Survey Contact Sightings@amseas.org
– NYSDEC Survey Contact MarineProtectedResources@dec.ny.gov
Rescue Contact:
If you see a stranded or entangled sea turtle immediately call the NYS Marine Mammal and Sea Turtle Stranding Hotline at (631) 369-9829